Recuperating Jubilee Party Secretary General Raphael Tuju's duties have been taken over by Jubilee executive director James Waweru.
In a move seemingly taken by the party to see its operations run in absence of SG Tuju, Waweru will be assisted by directors.
In a statement released on Monday, Jubilee communications director Albert Memusi said Tuju is now conscious and fully in control of his limbs.
However, he said Tuju has been immobilised to minimise aggravation of injuries.
"Doctors managing Tuju have started the process of weaning him off sedation and so far all indications are that his injuries are healing well," Memusi said.
"He is conscious and fully in control of his limbs just as he was when he walked into the accident and emergency section of Kijabe hospital."
"The family through the party wishes to thank all those who have been praying, sending messages of goodwill or encouraging them in one way or another."
The family has further requested that Tuju be allowed more time to recover before he can be visited. It has also reassured all that Tuju is under the able hands of both in-house and consultant health care givers.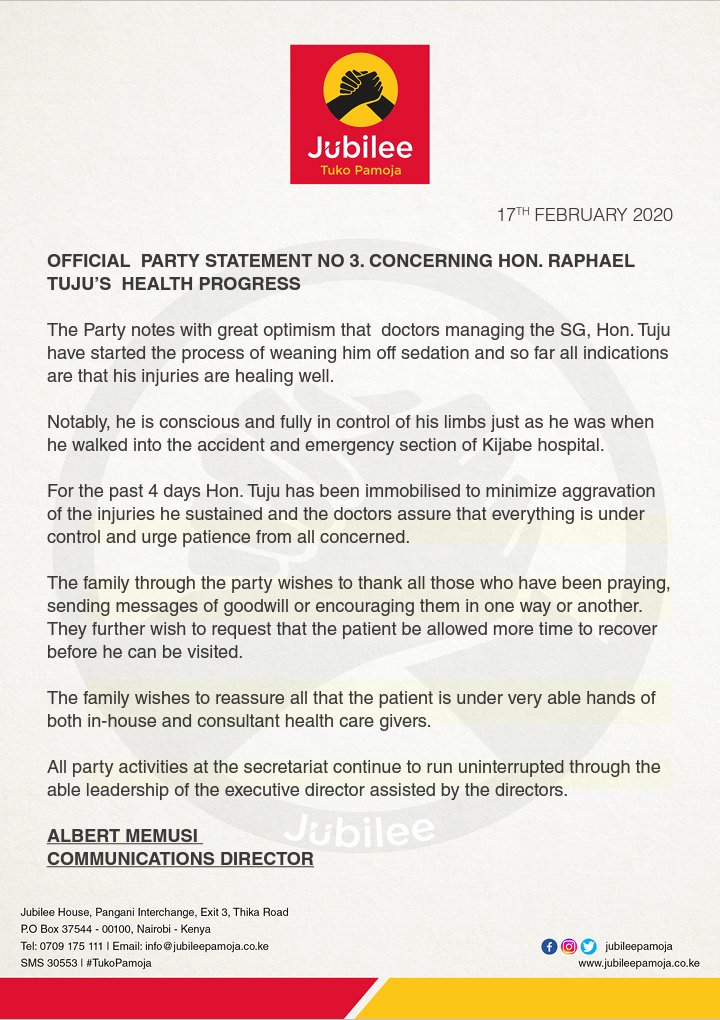 Tuju was rushed to AIC Kijabe Hospital on Wednesday last week, together with his bodyguard and driver by good Samaritans following an accident on their way to Kabarak to attend the burial of former late President Daniel Moi.
They were later all airlifted separately to Nairobi.
Tuju's car collided with a matatu belonging to Nuclear Sacco, which was heading towards Nairobi.
Do you have any story you would like to share? Email us at news@dailytrends.co.ke and we will publish it. You can also contact us at info@dailytrends.co.ke