Flamboyant city lawyer Donald Kipkorir has defended himself after cyber bullies landed on him on Thursday morning.
The controversial lawyer took to his social media account to complain about the trolling he has been facing on twitter.
According to him, his social media bullies are from one wing of the ruling Jubilee party.
He says he don't understand why he is being trolled yet he has no any political ambitions, neither does he hold any public office in Kenya.
The lawyer goes ahead to note that he has nothing to do with the current squabbles being faced in jubilee party, arguing that losers should have themselves to blame.
"Am not in Public Office & have no political ambitions .. I don't understand why digital terrorists from one wing of Jubilee have to troll me all the time.. I have nothing to do with collapse of Jubilee or destruction of dreams of some people .. Losers should blame themselves," he tweeted.
Kenyans on twitter on Thursday morning woke up to troll the lawyer under the hashtag #SonkoMalong, a tag he was given by economist David Ndii sometime back when they differed on political opinions.
KOT have been trolling him, with some referring to him as a slayqueen lawyer.
Some, while attacking him, doubted whether his wealth is as a result of his legal practice.
Here are screenshots of some of the reactions.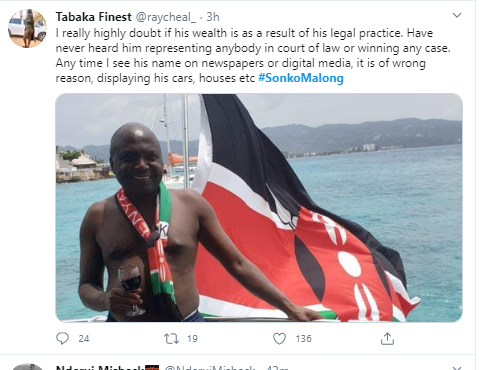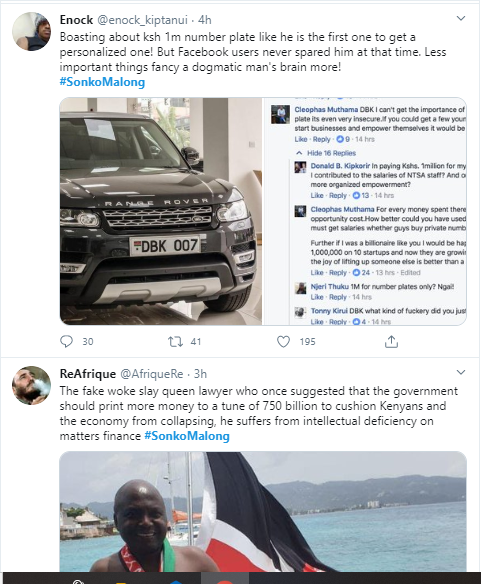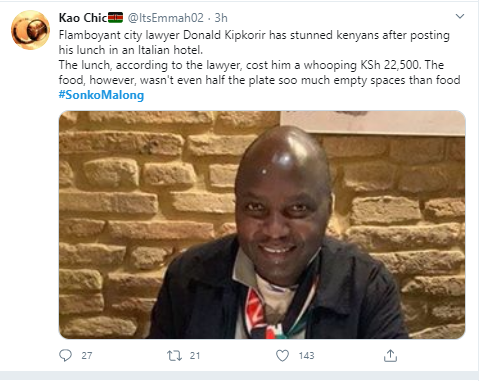 His Thursday morning attack resulted from his comment on one of the local dailies, where he argued that he is never bothered about changes in fuel prices in Kenya, since they don't affect him.
Do you have any story you would like to share? Email us at news@dailytrends.co.ke and we will publish it. You can also contact us at info@dailytrends.co.ke