A journalist working for mediamax has commited suicide in Nakuru citing the hard life that has been caused by the Covid-19 pandemic.
The body of the K24 journalist, George Kori , based in Molo was on Sunday May 24, 2020 found dangling on a tree at Gatura Farm in Elburgon.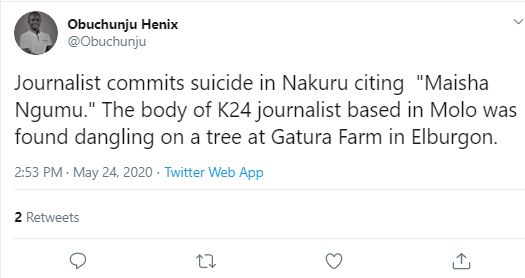 Cash-strapped K24 has majorly cut on its human resource, firing journalists and news presenters citing financial difficulties with ongoing court cases of presenters protesting a move to cut on their salaries.
K24 television which is a major part of the Media Max company is now being handed a lifeline by Kenya's KTN news that would see it be able to easily operate without a bulky human resource which will enable the company to cut on cost.
The lifeline being presented by KTN news is expected to be available to other media stations and partners and is expected to enable media houses to cut on the cost of content production.
K24 currently operates only with a handful of content providers after recurring job cuts which has already seen it suffer bad blood from the ex-employees in the manner it goes around firing.
Do you have any story you would like to share? Email us at news@dailytrends.co.ke and we will publish it. You can also contact us at info@dailytrends.co.ke