Raila Odinga-led Orange Democratic Movement (ODM) party has come up with a new strategy to fight embattled Migori County governor Okoth Obado.
ODM in a statement signed by its chairman John Mbadi on Thursday afternoon revealed that it was going to furnish the government with the names of Obado's allies who have been engaging in dirty deals at the County government.
The Orange party said it was going to forward the names of Migori County CECs, directors of various departments, contractors, Chief officers, MCAs, officials and suppliers who are currently involved in raising money and diverting public funds to bribe MCAs and finance violence in Migori.
ODM said that as soon as they forward the names, they will ensure that police arrest the said individuals so that law and order is maintained.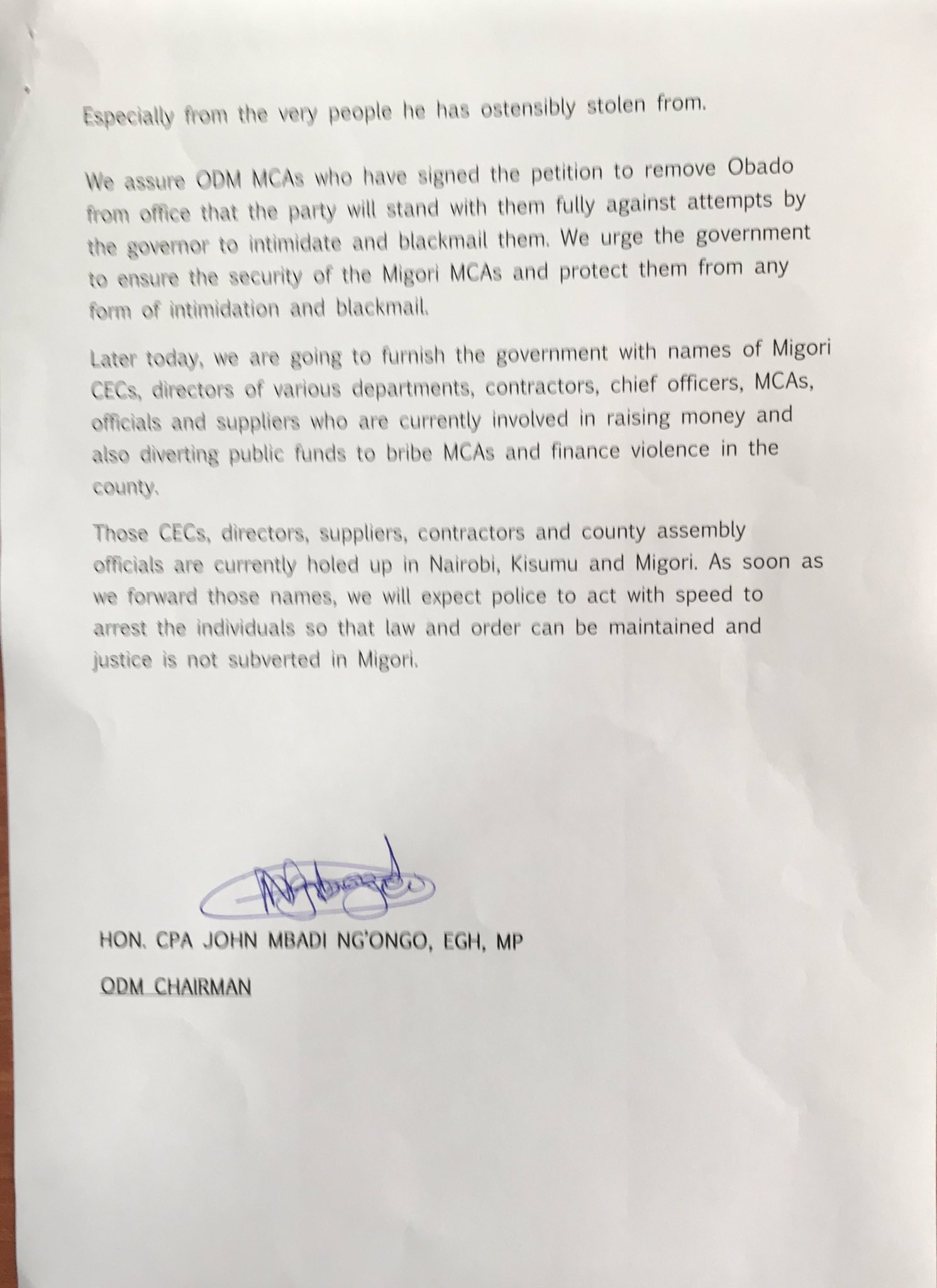 Obado, a long-time friend of Deputy President William Ruto, has openly dared ODM leader Raila Odinga to bring on his impeachment motion, saying the party has no numbers to kick him out.
According to Obado, ODM placed MCAs in a closed meeting and intimidated them.
Obado is a long-time friend of DP Ruto dating from the time of the governor's tenure at the defunct Kenya Sugar Board when Ruto was the Minister for Agriculture.
He has hosted the DP several times against ODM's wishes, including shortly after he was released from prison on bail over the murder of his pregnant girlfriend Sharon Otieno. The case is ongoing. 
Then, he alluded to ODM's hand in his woes and asked his constituents to allow him to work with Ruto.
For the impeachment to sail through, the motion will need approval of at least 43 members in the house which has 57 MCAs.
ODM has 41 MCAs, seven are independent, Jubilee Party has three, Ford Kenya two while PPOK has one.
Out of the 37 ODM elected MCAs who attended the meeting, 14 refused to sign up for the impeachment bid and only 23 appended their signatures despite persuasion from the party's top leadership.
Mbadi who chaired the meeting confirmed that 23 signed up but stated that only five refused.
Mbadi, speaking on Wednesday morning – said out of 41 ODM MCAs in Migori, four skipped the function with apology for being sick and 23 "willingly without any intimidation signed and agreed to the impeachment."
Do you have any story you would like to share? Email us at news@dailytrends.co.ke and we will publish it. You can also contact us at info@dailytrends.co.ke