Is Interior Ministry Cabinet Secretary Dr Fred Matiang'i the second most powerful government official after President Uhuru Kenyatta?
Well, his recent official activities have kept Kenyans speculating about the most hyped 2022 succession politics.
On Monday, Dr Matiang'i officiated a passing out parade for 1,224 officers who have completed a standardization course at Kiganjo as part of the reforms agenda for National Police Service.
During the event, Matiang'i inspected the parade, something that the president has been doing over a long period of time, being the commander-in-chief of the armed forces.
Matiang'i has on several occasions been speculated of being prepared by President Kenyatta and his ODM counterpart Raila Odinga for the top most political seat come 2022.
And are these photos revealing anything about that?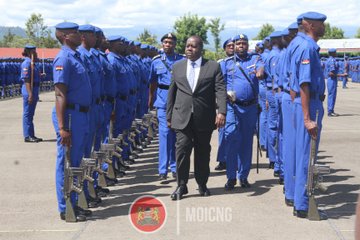 Well, early this year, Matiang'i was given powers that raised him to being the most powerful Cabinet Secretary who is in charge of launching government projects and chairing cabinet sittings.
This move was he talk among Kenyans, with many believing that Deputy President Dr William Ruto had been sidelined and left with no powers and duties other than politicking.
The DP is one of the most top 2022 presidential candidates. Are these powers given to Matiang'i sealing Ruto's 2022 fate?
Well, former statehouse employee who is now based at DP Ruto's Harambee Annexe office Dennis Itumbi on Monday evening shared one of Matiangi's photos in a picture tweet that turned out to be a talk among Kenyans.
Many Kenyans while reacting on the photos believed that Matiang'i is the newly coronated King.
Some argued that Matiang'i is the incoming President after the end of President Kenyatta's term in 2022 basing on the role he played during the pass out parade in Kiganjo.
Here are some of the reactions.
Do you have any story you would like to share? Email us at news@dailytrends.co.ke and we will publish it. You can also contact us at info@dailytrends.co.ke