Former State House Director of Digital and Diaspora Communication Dennis Itumbi has badly exposed renown political analyst Mutahi Ngunyi.
Mutahi Ngunyi had been earlier accused of scripting last Sunday's Punchline show, a political talk show that airs every Sunday night on K24 Tv, hosted by Anne Kiguta.
In the show, Mutahi Ngunyi was the main guest, among several others.
During the show, a scathing attack was launched against Deputy President Dr William Ruto, with even the host declaring using facts, that the second in command will never be the President of Kenya.
Anne Kiguta, on behalf of K24 TV, stated that DP Ruto had no chance of becoming President in 2022.
She said K24 TV had made the prediction after observing the infighting for the control of Jubilee Party over the past week.
Kiguta said there was no doubt that President Uhuru Kenyatta had a fall out with his deputy who she accused of faking togetherness where there was none.
"While reporting these events that have followed, we have often debated why the DP has stayed where he is clearly not wanted, why face the humiliation? why create the illusion that all is well while clearly, it's not? why create the image of togetherness where there is none? How does it benefit the DP?"
"For many of DP's allies is that they have mistakenly thought that they could force the President into the past days working together…we observe only way out for the DP and that its – stop fighting reality. Living in the real world as horrible as it is frees you to make decisions that can work in the present," K24's editorial continued as read out by Ms Kiguta.
However, Itumbi on the morning of Friday April 24, revealed that it was Mutahi Ngunyi who scripted the editorial piece that was read by Anne Kiguta.
Itumbi went ahead to reveal that it was indeed Mutahi Ngunyi who invited guests on the show. To prove this, Itumbi exposed private chats that Mutahi Ngunyi had with some of the guests on the show.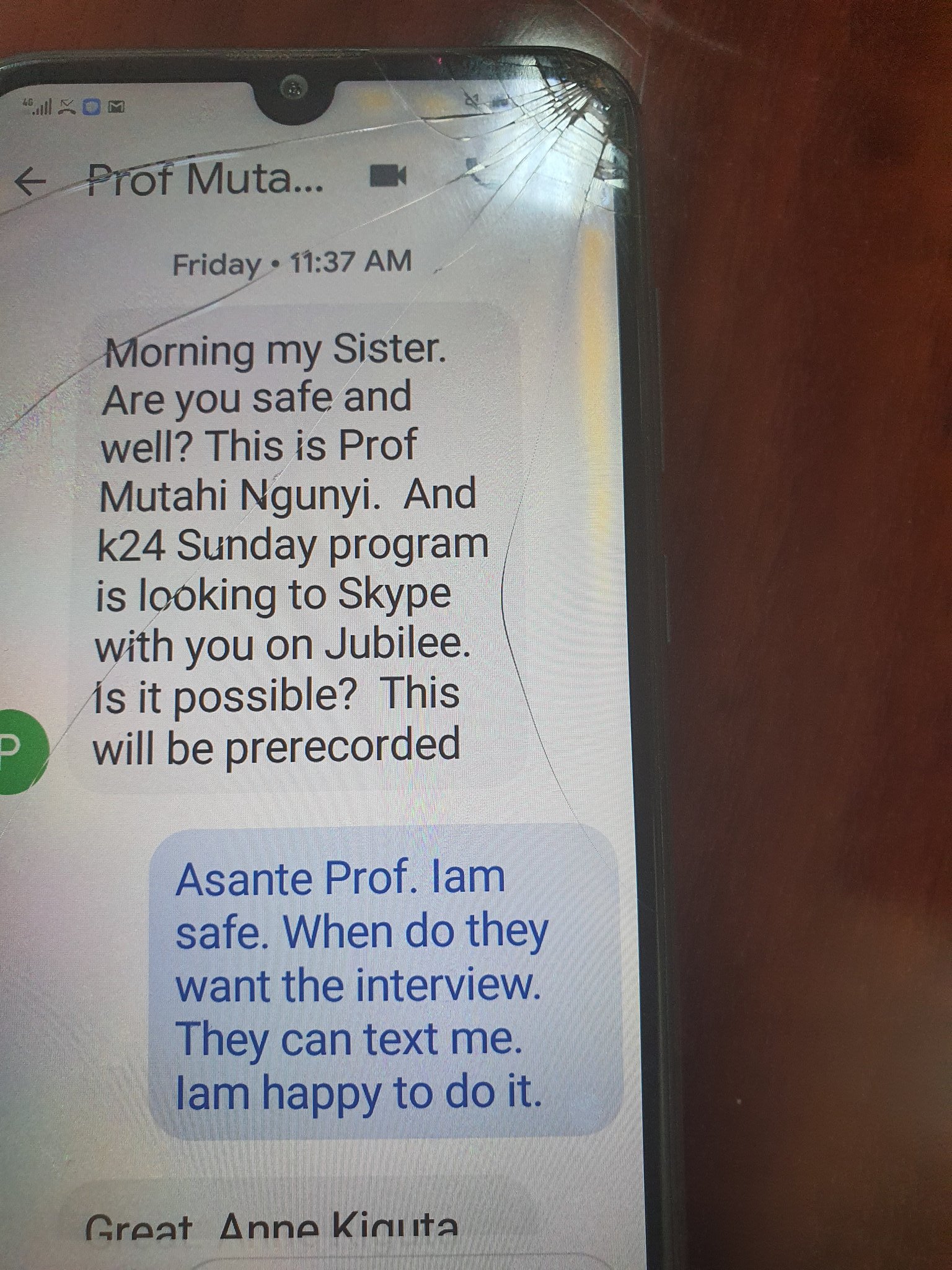 "Goodmorning my Friend @MutahiNgunyi – Be slow to DENY next time buddy. You not only scripted #Punchline for @AnneKiguta – You also invited guests to the show. #SystemYaFacts," he tweeted.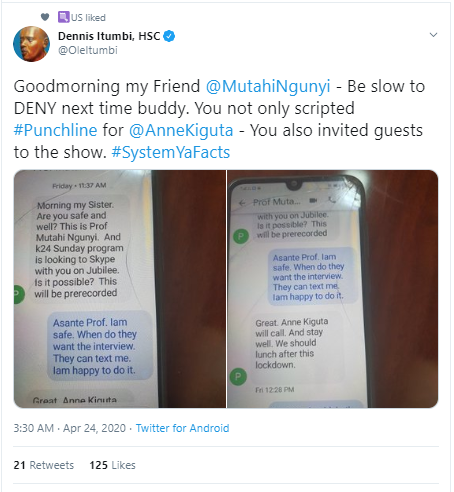 On April 20, Mutahi Ngunyi had denied the allegations of scripting the editorial piece for K24 TV, arguing that the editorial had nothing but panashe.
"Hello my FREN @OleItumbi. I think @AnneKiguta Editorial on #Punchline had NOTHING but Panashe (google word). And thanks for SUGGESTING that I wrote it with my @5thestateKE gang. In the MEANTIME, read a BOOK my FREN! It makes a lot of DIFFERENCE! " he posted.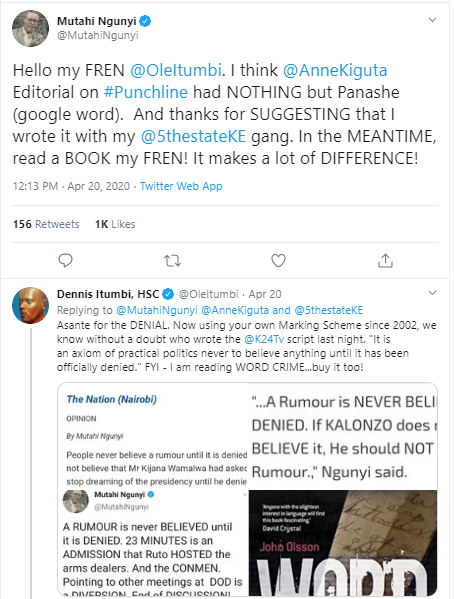 By the time of publishing this article, Mutahi Ngunyi had not yet responded to Dennis Itumbi's latest allegations.