Orange Democratic Movement (ODM) party leader Raila Odinga has mourned former Vice President Moody Awori's brother Aggrey Awori.
Aggrey, a former ICT minister in Uganda, passed away on Monday at around 2pm while receiving treatment at a private hospital in Naalya, Kampala.
In a statement issued through his secretariat on Tuesday July 6, 2021, Raila said that his family was saddened by the passing on of Aggrey, whom he termed as a long-standing family friend. He has mourned him as a true manifestation of the spirit of East Africa integration and Pan-Africanism.
"Mama Ida and I have been deeply saddened by the passing of our long-standing family friend Hon Aggrey Awori. Aggrey was a true manifestation of the spirit of East Africa integration and Pan-Africanism," the statement reads in part.
He further gave thanks for Aggrey's remarkable service for Kenya and Uganda, noting that the two families had a long history of friendship which was started by their fathers, Jaramogi Oginga Odinga and Jeremiah Musungu Awori.
Raila also remarked how Awori represented Uganda in the 110 metres hurdles during the 1960 and 1964 Summer Olympics.
He noted that their friendship dates back when Aggrey's father, the pioneer African Canon for the Anglican Church used to come at their home to offer prayers whenever Jaramogi Oginga Odinga had any function.
Raila also remarked having worked with Aggrey Awori at the University of Nairobi.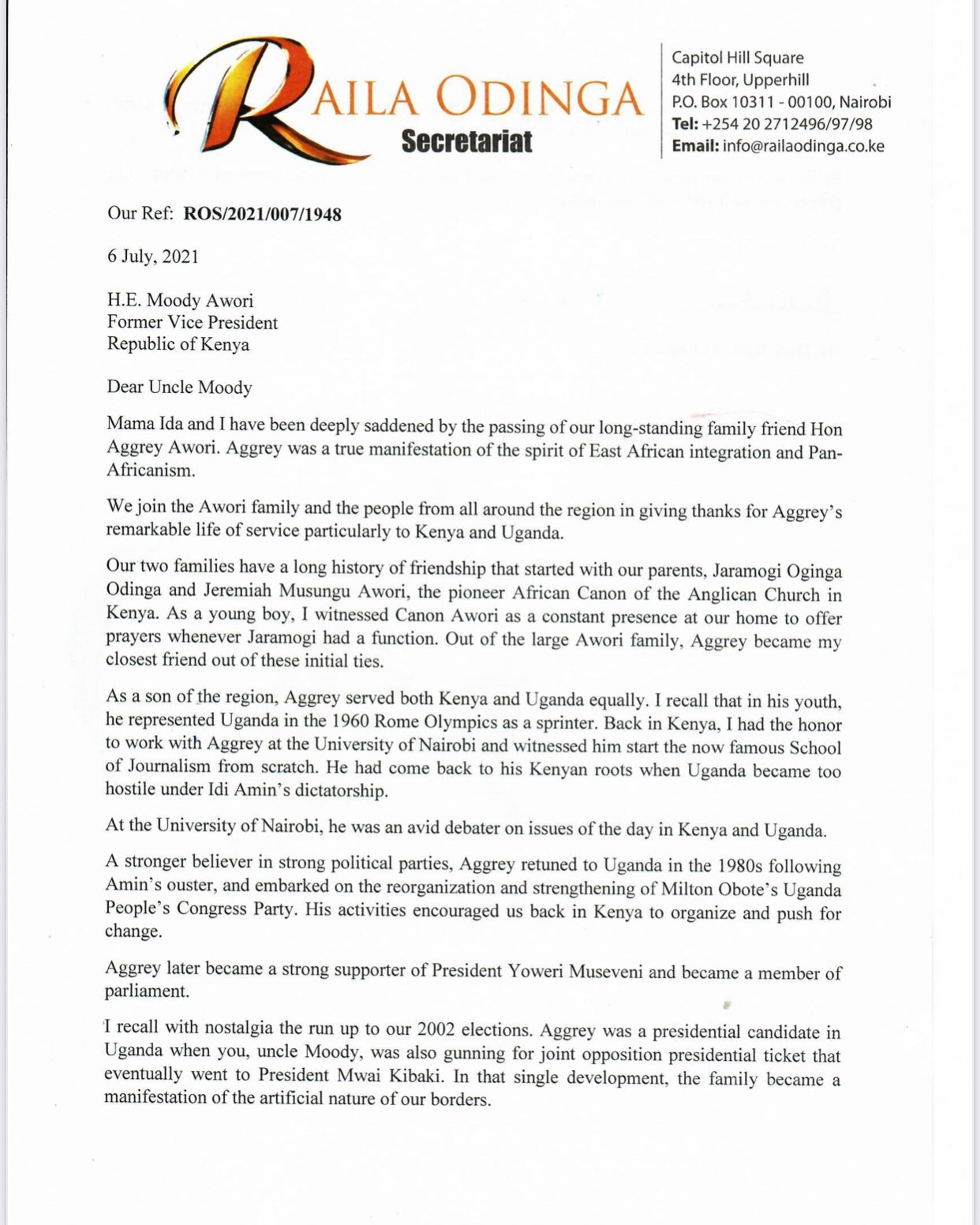 Awori had a Master of Arts in economics from Syracuse University in the US.
In 1967, Awori was appointed the first local director of Uganda Television (UTV).
In 1971 he was incarcerated for two months for failing to broadcast a speech delivered to him during Idi Amin's first coup attempt.
He went sought asylum in Kenya where he taught political journalism at the University of Nairobi until 1976 when he left Kenya to travel to other parts of Africa.
Awori served as Minister for Information and Communications Technology from February 16, 2009 to May 27, 2011.
He was born on February 23, 1939 to Canon Jeremiah Musungu Awori, an Anglican preacher and Mariamu Odongo Awori, a nurse and community teacher.
Aggrey was the 10th of the 17 children. His siblings include; Kenya's ninth Vice President Moody Awori and Mary Okelo, the founder of Kenya's women only bank; the Kenya Women Finance Trust.