Kitui County governor Charity Ngilu has revealed another victim of fraudulent activities allegedly happening from Deputy President William Ruto's office.
Ngilu on Sunday evening issued a statement listing some of the fraudulent activities that have previously happened in the office of the second in command.
Ngilu says it is now evidently clear through his (Ruto) own admission that these activities have been taking place in his office, which he admitted in his tweet that the meeting took place albeit for 23 minutes.
The Kitui county chief says Stephen Ngei Musyoka, a proprietor of Makindu Motors, is a living victim of these mafia like schemes that take place at the DPs office.
In 2018, in a similar run in with conmen operating from Dr Ruto's office, Mr Musyoka supplied 2,800 laptops worth Sh200 million. To date Mr Musyoka has never been paid.
Ngilu has called for the resignation of DP Ruto to allow investigations to take place.
"The Deputy President should stop hoodwinking Kenyans through tweets and do the honorable thing, STEP ASIDE and let investigations be conducted in an impartial environment," Ngilu says in part of her statement.

Below is her full statement;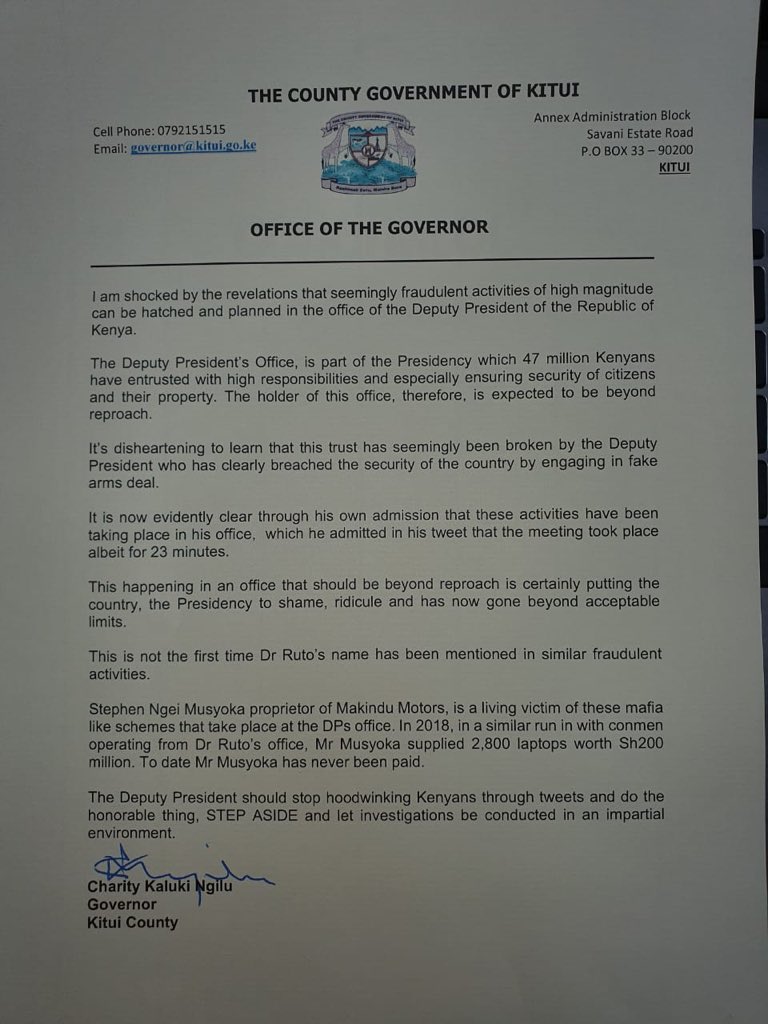 Do you have any story you would like to share? Email us at news@dailytrends.co.ke and we will publish it. You can also contact us at info@dailytrends.co.ke