Kenyans banking with the Co-operative bank of Kenya are angry over what they have termed as illicit charges applied by the bank on their e-banking services.
The Co-operative Bank of Kenya charges clients a total of Sh22 to buy Safaricom credit worth Sh10.
The deductions include a Sh10 for the airtime, Sh10 (bank charges) and Sh2 (excise duty).
Clients have been voicing oppositions over high charges, coming at a time when a majority of them are facing tough economic challenges induced by the coronavirus.
A section of them have taken to social media to claim that they will soon dump the bank over the hiked charges.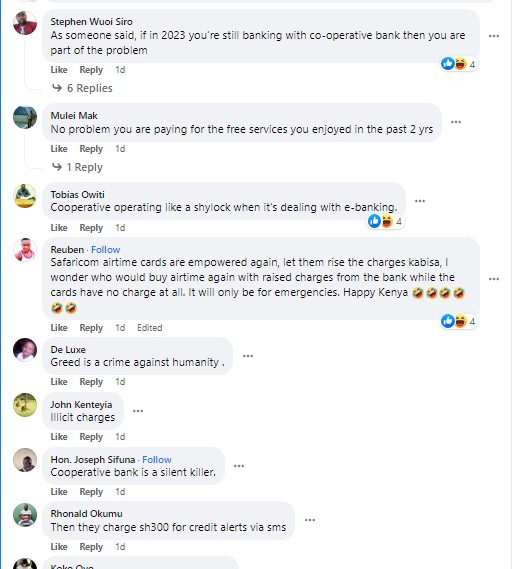 MPs increased excise duty on airtime and data to 20 percent from 15 percent, which is expected to earn the Government Sh8 billion from operators such as Safaricom, Telkom and Airtel.
Central Bank of Kenya (CBK) reinstated charges on transfer of funds from Banks to MPesa wallets, representing a win for financial institutions.
On March 16 2020, the Government waived charged as part of an emergency plan to encourage mobile money transaction at the height of Covid-19 pandemic.