Former Kakamega County senator Boni Khalwale on Friday tore into Kenya Airways for suspending one of their staffs who blew the whistle about a Chinese plane that landed at JKIA with 239 passengers from China.
On Wednesday, Kenyan authorities allowed the plane to land in the country despite of the corona virus fears.
Kenya Airways was pissed off with the rate at which the video showing the Chinese Southern Airline landing at JKIA spread on social media.
As a result, Gire Ali, their staff who is alleged to have recorded and spread the video was suspended with effect from February 27, 2020.
"Following a report of video of China Southern flights arrival at JKIA and circulation of the video clip widely on social media and your alleged involvement in the matter, it has been decided that you be suspended from duty with effect from Feb 27," KQ Chief human resource Evelyne Munyoki said in a letter dated February 27, 2020.
According to Munyoki, the suspension is in line with the company policies.
"This is to pave way for further investigations into the matter. During the period of suspension, you will be required to avail yourself to the investigating team," Munyoki said.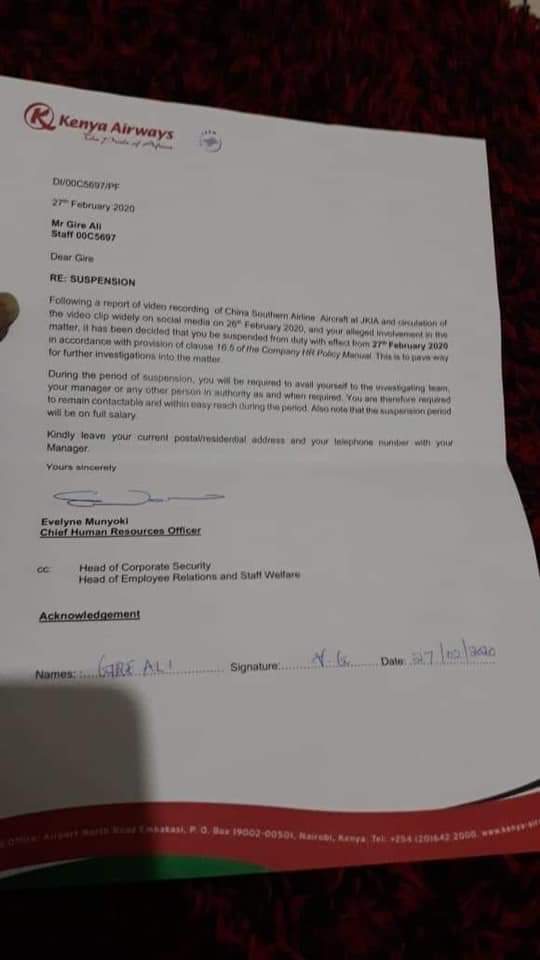 But Khalwale the bullfighter in a quick response to the suspension has termed the decision as a wisdom of fools.
Khalwale says that Mr Gire Ali is just a mere whistle blower and does not deserve the suspension.
He has termed Mr Gire as a hero to Kenyans.
"Suspend Mr Gire Ali? He is a mere whistle blower. Now our hero. Kenya Airways, yours is wisdom of fools," Khalwale tweeted.
Gire alerted Kenyans of a China plane that had landed at JKIA with authorities silently ushering in the 239 passengers by only advising them to quarantine themselves for 14 days.
So far, 17 suspect cases have been recorded in the country and all have tested negative.
On Thursday, a section of MPs demanded that all the Chinese airlines be suspended from landing at the Jomo Kenyatta International Airport.
Led by Minority leader John Mbadi the MPs said it was a careless move for those responsible to have cleared a China Southern Airline plane on Kenyan soil despite the scare of the coronavirus outbreak.
Mbadi said it was laughable that the Health ministry cleared all the 239 passengers and asked them to 'self-quarantine' without proper monitoring mechanisms.
Do you have any story you would like to share? Email us at news@dailytrends.co.ke and we will publish it. You can also contact us at info@dailytrends.co.ke